Sunday Escape vol.23 Bangkok, Thailand
 SUNDAY ESCAPE 
vol.23
Hello dearest Çuvalistas,
I finally finished my favorite newsletter,
Sunday Escape letter to you!
After traveling almost a month from late January till the end of February, it took me some time to catch back up. Some of you witnessed the beginning on this trip on on Instagram highlights The Journal and know that I had to cut off my reporting in Bali after spending a night in a hospital with a friend (who got Bali belly) and next morning waking up with earthquake news in Turkey. 
Speaking of time, 
that has many facades, from the grief of loosing loved ones to shedding parts of our youth spent with in, to have bad experiences, probably the best of all is to help us heal. So l will cherish it with all memories, even the ones that seemed to be "bad" at the time.
Visiting such a holy and spiritual land, I'm here to remember with all of you once again to trust the divine timing of the universe by just being at the moment, enjoy it and experience fully. As once Gautama Buddha says: 
"Happiness will never come to those who fail to appreciate what they already have" 
Oh! also don't forget to hold on to your Çuval, who will always be there for you to #fillinyourlife  and accompany wherever your heart will bring you :) 
Tune Up
 You can listen to this tune while reading :)
Sao Lam Plearn by Chaweewan Dumnern
BANGKOK 
Officially known as Krung Thep Maha Nakhon,  meaning city of angels, Bangkok is surrounded by many small rivers and streams. The watery landscape and the bunny statues and posters I saw all over the place, made me think of Çuval's new arrival The Journey Oceandedicated the Chinese New Year of "Water Rabbit. Everything was so meant to be and so magical!             
Jodd Fairs
A popular night bazaar 
dissected
 out 
with shopping stands of apparel, food, drinks, and seating areas for live concert venue and restaurants. I was pleasantly overwhelmed right after my arrival in the city on a Friday evening, taking a night flight from Istanbul. (sleeping at night on plane was a good idea to skip the jetlag ;)
Chatuchak Market
Open only on weekends, the world's largest market is an experience by it self! From vintage workwear to kimonos and basic cotton apparel to souvenirs I covered most of my shopping here and at ...
Bangsue Junction
located right across the street. I found a very cool corner owned by a stylish Thai local girl who collected the best Hawaiian and printed silk shirts and jackets I've seen so far. Of course I indulged my self buying a bunch for a great deal!
Smalls Bar
 Not knowing this place as one of the 50 best bars in Asia, I ended up having one of my best night here as it was located just around the corner of where I stayed. Not only their cocktails were great but the DJ played such good tunes and the contemporary artworks  were as intriguing. Here is some: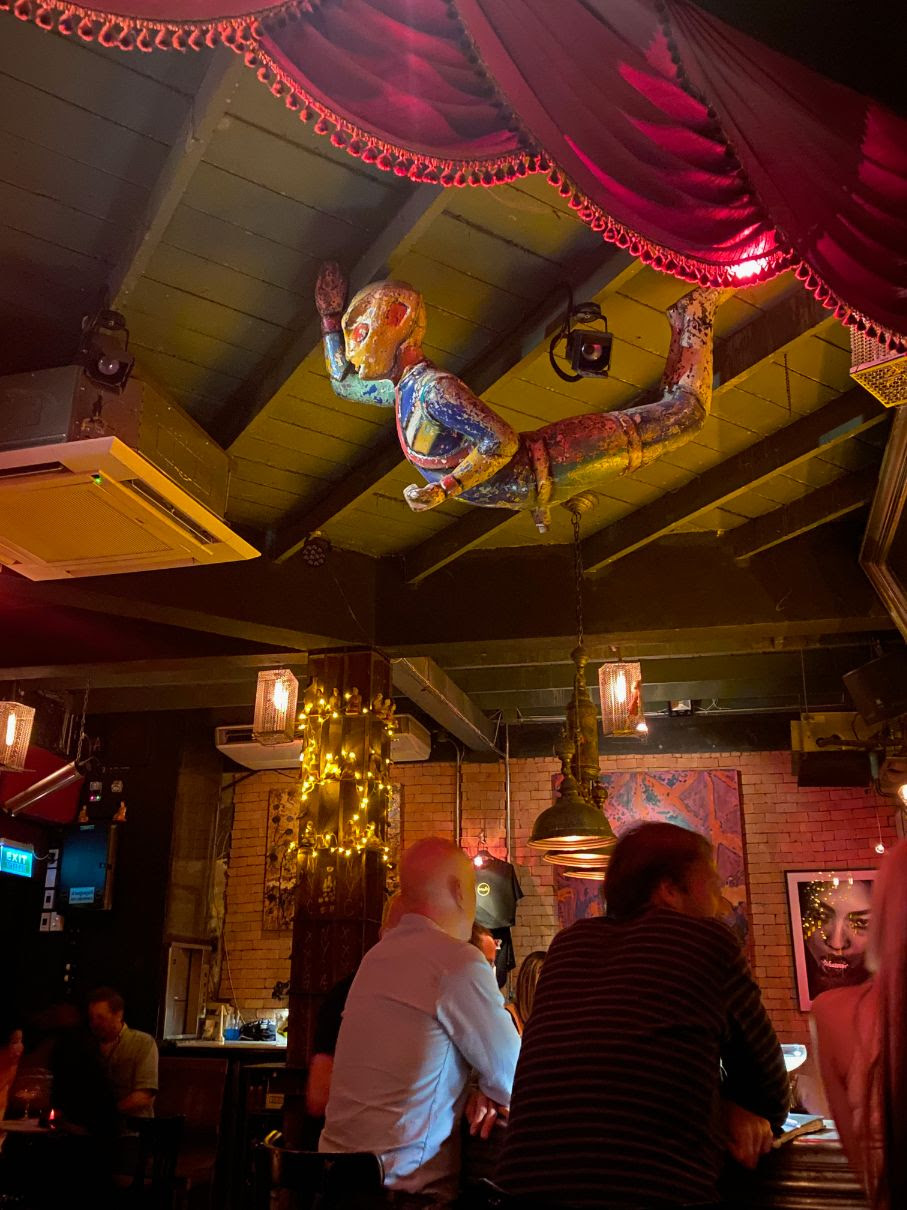 Chinatown
Visiting Chinatown at night is a must do - much different experience than seeing during the day. First of all, the market starts very early in the morning to shop goods or get some food along the way. I had a good understanding of there is no way you can possibly stay hungry in this town. Even at night time there are queues waiting in front of restaurants or streets packed with tables people eating right on spot. Try to plan some bar hopping after dinner, there are many cool spots within the streets.
Bangkok Art & Culture Center (BACC)
Hosting Bangkok Bienale since 2018, this art center was worth a quick visit before I headed off to airport for Chiang Mai. Don't miss checking out Don Don Donki, a popular Japanese discount market located right across where MBK center is located.
Riverbank Bangok
Another art a centre with antique shops, galleries and exhibitions is Riverbank Bangok. My favorite exhibitions was "The Endless Swimming Pool" by  Phannapast Taychamaythakool and "Take Your Time" by Suntur. 
Temples by Boat
It was so easy and fun to visit most of the temples on hopping boats. Here is a list of the temples that fascinated me the most:
CHIANG MAI
I fell in love with this city at once! 
Once the capital of kingdom Lan Na meaning "New City",  this place has been awarded by 
UNESCO as "Creative City". 
As a tourist it's best to get placed at Mueng Chiang Mai district, the area (like a square as seen on the map) surrounded by ancient temples. 
Wat Chiang Mun
From all the temples I visited around this area (of course I haven't seen all of them as there are too many :) this one was my favorite with it's big beautiful garden. I had such a graceful moment sitting on a stone bench to rest from my traveling the night before, while contemplating all the trees, flowers already blossomed from Spring and listening to monks chanting on their afternoon practice. 
Wat Phra That Doi Suthep
Located a bit far from center, at the mountain of "Doi Suthep"
Monks Trail
Night
At Wat Paknam Phasi Charoen